Communication, Feedback & Complaints
Your views are very important to us and we are always keen to hear your questions, comments and feedback. On the rare occasion that you need to raise a concern, please have a look at our Concerns & Issues Flowchart to help you deal with the issue as quickly as possible: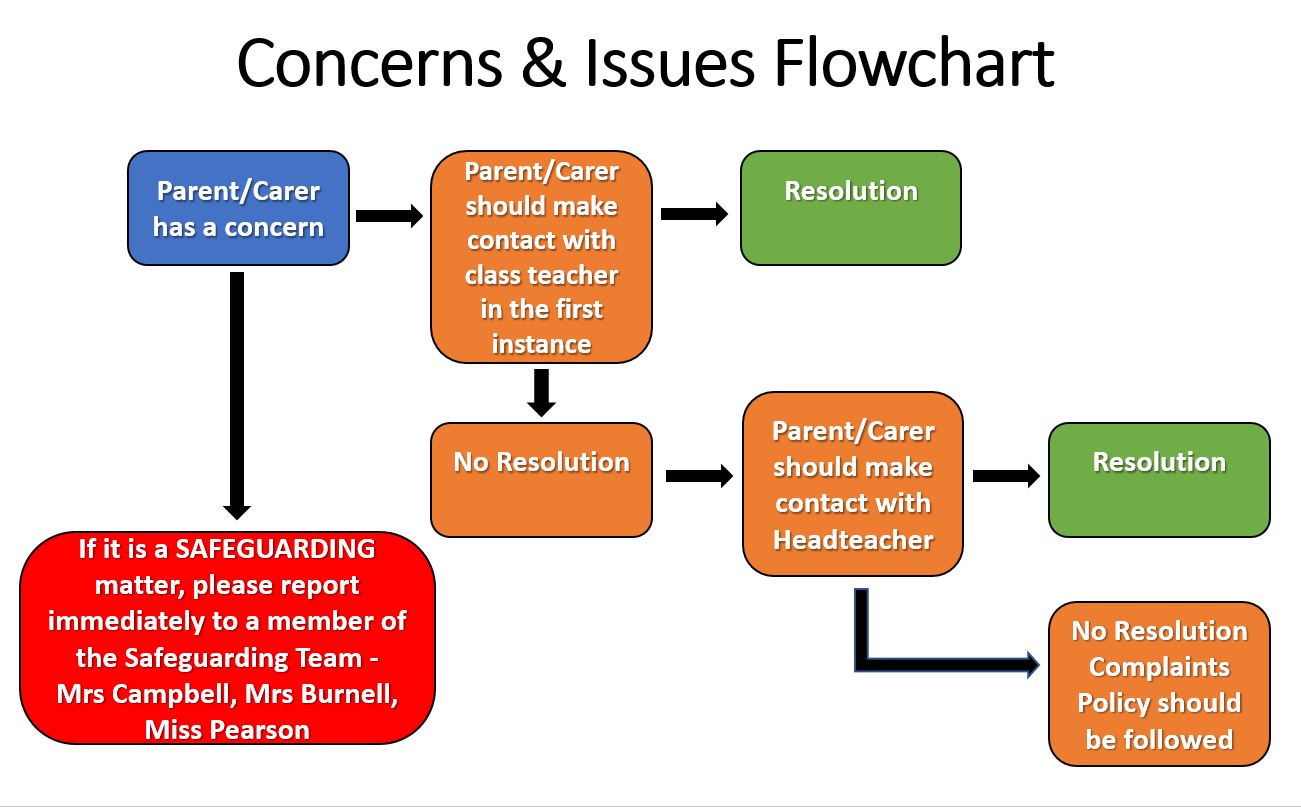 Speak with the class teacher
Parents' evenings are held twice a year – once in the Autumn term and another in the Spring. However, informal meetings can be more effective. We encourage parents of all our pupils to keep in close contact with the School – it's nearly always possible to speak with the class teacher for a moment or two after school, and a longer discussion can be arranged within a day or two - please arrange via the School Office. These meetings can be arranged if you have specific concerns or would like to know more about how to support your child. Your child's class teacher should always be your first port of call.
Speak to the Headteacher
As well as speaking to the class teacher, you can of course request a meeting with Mrs Campbell, Headteacher. Please contact the School Office to arrange a mutually convenient time. You will also see Mrs Campbell in the playground every day at drop off and collection time (in all weathers!). Please feel free to come and chat with her, feedback is always welcome.
Put your views in writing
Every year in the Summer Term, we send out a short survey for parents. The survey is usually in two sections. The first section asks you to agree / disagree to a few statements – these relate to Ofsted inspection criteria and will be about teaching, learning, behaviour and safety, and leadership. There is always space for you to add your comments too. The second section is more open-ended and is usually linked to our school development plan. If you've got some feedback for us, we'd like to hear from you.
Contact Ofsted
Parent View gives you the chance to tell Ofsted what you think about Blagdon Primary School. It asks for your opinion on 12 aspects of school, from the quality of teaching to dealing with poor behaviour. Ofsted uses the information you provide when making decisions about which schools to inspect, and when. By sharing your views, you'll be helping us to improve. The survey can be completed at any time and you don't have to wait until the School is being inspected. You will also be able to see what other parents have said about us.
Our communications
We communicate to Parents/Carers via ParentMail. Information on events, important messages, diary dates and class updates are sent home this way to ensure they get to you! Paper copies are always available from the School Office - don't hesitate to ask.
Make a complaint
At Blagdon Primary School we encourage open dialogue between members of our School community. Staff are always willing to make themselves available for a conversation, so most concerns or complaints are dealt with quickly. We will always listen to any comments made and we actively encourage feedback from all.
However, if parents feel that they need to make a formal complaint, it should be made in writing to the Headteacher, who will investigate and provide a response within ten working days. Please email: jenny.campbell@blagdonprimaryschool.com with your complaint.
If parents remain dissatisfied with the response, they can appeal to the Chair of Governors, Mr Chris Mills, email: chris.mills@blagdonprimaryschool.com.
The case will then be reviewed by a Governors' Panel and a final response given.
A copy of the Complaints Policy is on our website and also available from the school office.