Keeping safe
It is really important to all of us at Blagdon Primary School that we help you learn about keeping yourself safe at school, at home, when you are out and about and any other situation !
If you are ever worried about anything, always speak to an adult in school or at home to get the help and support you need. You might also like to look at our wellbeing pages on our website.
Year 6 Visit Lifeskills
Each year we take all of our Year 6 children to visit the Lifeskills Centre in Bristol.
Their Children's Programme aims to show pupils that you should be taking personal responsibility for your own safety. You will learn how to assess risk and cope with difficult situations by taking part in realistic, interactive activities. Volunteer Guides take you around their realistic "village" to experience a number of difficult or dangerous situations. You must work together to decide how to overcome each problem and have the opportunity to learn from your mistakes in a safe environment.
Visits from our PCSO (Police Community Support Officer)
Our local PCSO's visit the school on a regular basis to say hello. Throughout the year, they will come and talk to each of the classes about aspects of safety. Class 1 and 2 will have a talk on 'Stranger Danger', Class 3 & 4 on 'Crime and Consequences'. Everyone will benefit from a talk on 'Safety on the Internet'.
E-Safety Advice is found on this page.
Bikeability and Scooter Training
Bikeability is today's cycle training programme. It's like cycling proficiency, but better! It's about gaining practical skills and understanding how to cycle on today's roads. Bikeability gives everyone the skills and confidence for all kinds of cycling.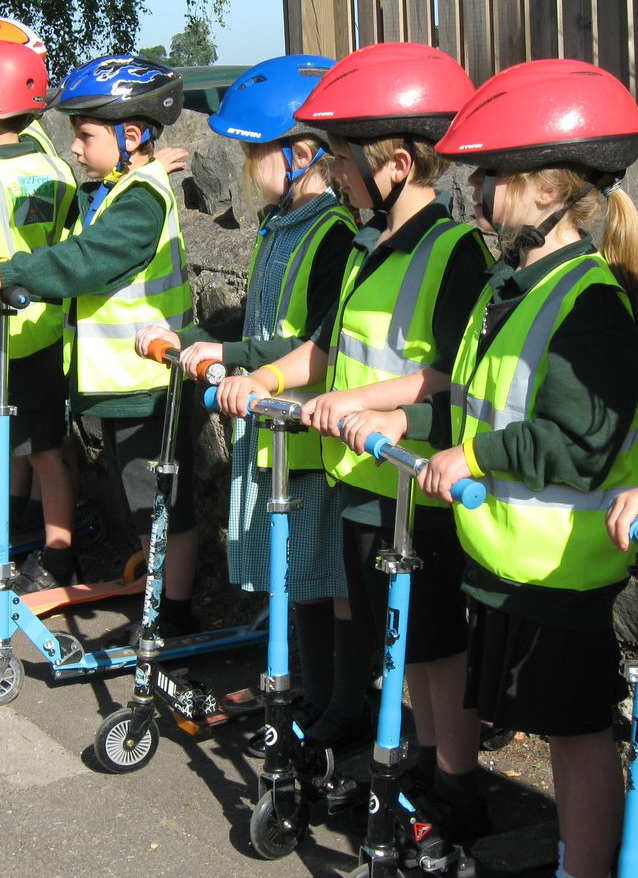 There are three Bikeability levels, each designed to improve cycling skills, no matter what is known already. Levels 1, 2 and 3 take trainees from the basics of balance and control, all the way to planning and making an independent journey on busier roads.
The majority of our Year 5's and 6's take part in Bikeability. They successfully complete Level 1 in the playground. They then move on to Level 2, where they learn to ride on the road and safely take junctions. Don't forget to always wear your helmet. Happy cycling everyone!
We also arrange scooter training for some of our KS1 children where they learn about staying safe whilst scooting around.
Fire Service
Blagdon Fire Station is in the centre of the village. We are lucky that we have visits from the firefighters, who come and talk to us about fire and road safety.