Payment Systems
Trips, Activities, Music Lessons and Other Expenses:
ParentPay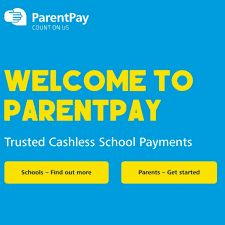 is our online payment system that allows parents to make a payment quickly and securely to the School.
You simply top-up your ParentPay account online by debit or credit card, or in cash through PayPoint stores. Your ParentPay balance can be used immediately to pay for any of your children's items at school.
A letter containing activation details will allow you to set up an account. If you haven't received one, please contact the School Office.
Once you are up and running you can:
View your balance, top up online with debit or credit card or pay by cash through PayPoint.
Get alerted by text or email if your balance gets low or when you have something new you can pay for like a school trip or out of school clubs, lessons or other activities.
Payments are received safely by the school, meaning you do not have to send your child to school with cash again, money doesn't get lost and is spent on its intended purpose.
If you have any questions regarding ParentPay please see their help and support webpage or contact the School Office.
School Dinners
Aspens Select is our online school dinner payment and food selection system. Payments are made directly to Aspens and dinners must be ordered before 8.30am on the day the meal is required. Login details will be issued to you by the School Office.