Sycamore Class
Our class teacher is Miss Brown. We are supported in our learning by Mrs Fennell and Mrs Bayliss. The children in our class are in Year 5 and Year 6.
---
Term 1
English
Wow, what an exciting start to the new academic year! We have really enjoyed settling into our new class and getting to know where everything is!
In English, we have studied our whole school text 'Journey' by Aaron Becker. We went into the school hall and saw a wonderful scene from the story set up on the stage. We thought carefully where all the objects were placed and what was around us. When we went back into the class, we consolidated our learning of preposition phrases and wrote an excellent piece of work.
At the end of this unit, we all worked hard to create a sequel to this book. We added in additional characters and sent them off on a journey they would never forget!
We are currently studying 'Can We Save the Tiger?' by Martin Jenkins. This book has created some very thoughtful responses about extinction and what it means for the planet. We have all chosen an animal that is close to extinction and have so far created; persuasive speeches and non-fiction pieces.
To summarise our time in camp, we all generated recounts! We all had such a fabulous time on camp and wrote happily about our time away. We used our 'Professional Publishing Portfolios' for the first time and created excellent pieces of work.
Maths
In Maths, both year groups have studied Place Value. In Year 6, we explored numbers to 10 million! In Year 5, we have looked at numbers to 1 million.
Currently, Year 6 are looking at the four operations. We have shown great resilience in this unit and have worked hard. We looked at multiplying 4-digit numbers by 2-digit numbers.
In Year 5, we have looked at addition and subtraction. We have explored the column method and have worked hard to ensure we are writing this in the right way. We have also looked at exchanging.
Science
We have really enjoyed our Science unit so far. We are learning about Evolution and Inheritance. In our first lesson, we created some mind-maps showing what we already know. We will add to these at the end of this science unit to show how much our learning has grown.
In our second lesson, we looked at inheritance. To explore this in-depth, we looked at Little Miss and Mr Men. We then created the offspring that they could have! We learnt a lot in this lesson and created some fantastic offspring with detailed sentences explaining what they inherited from their parents.
Then, we explored how lizards and snakes have adapted overtime and what characteristics help them to survive in their environment. We found this interesting and generated some insightful pieces of work.
Next, we did an experiment using: tweezers, chopsticks, bulldog clips, pegs and sugar cube tongs to see which 'beak' would be the most effective at collecting food. In our groups we fed back our data and summarises that the best item to collect food were the chopsticks. We then discussed how this related to Darwin's Finches. We summarised that the chopsticks were the most effective because of their length and we could vary the pressure that we put on them.
Geography
In Geography, we are looking at Fieldwork. In our first lesson, we used atlases to explore where various geographers carried out their fieldwork. Using the atlases and what we had learnt in the lesson, we transferred the information onto world maps. It was interesting to see all the different areas that fieldwork can take place.
We have also explored how geographers collect their data. We learnt that geographers collect their data in a variety of ways. We decided to create a field sketch of the school, using OASIS as our guide.
In the following lesson, we looked at data and how we can collect it. We wanted to look around our school and see which area we found the most appealing. Lots of us voted for the front garden!
At camp, we also read maps during orienteering. We found this exercise fun and we were able to successfully locate the different areas.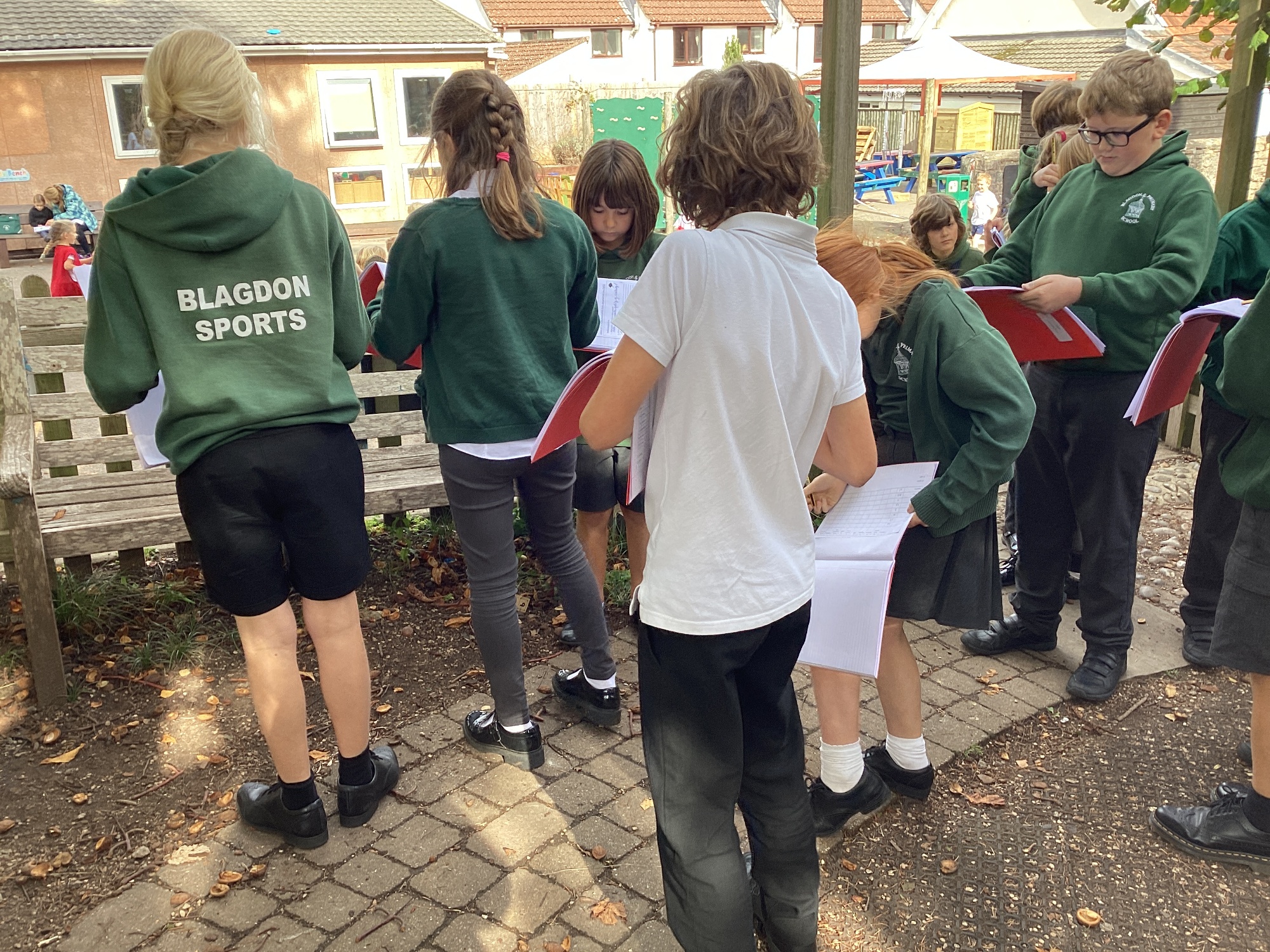 Topic 20
In Topic 20 this term, we are looking at World War 1. This is because our History topic next term is World War 2. Our first lesson explored how World War 1 began and has allowed us to build upon our underpinning knowledge. We have so far explored: what World War 1 was, the causes of World War 1 and The Battle of Arras.
RE
In RE we have been looking at Sikhism. The question that we are answering over the duration of this unit is 'How far would a Sikh go for his/her religion?'. This has been an interesting unit for us. We have explored our own commitments in this unit and have had some excellent class discussions. We have looked at the Story of Khalsa and found this interesting and insightful.
Art
In art, we have been looking at space! We have studied two artists in depth: Julie Perrot and Peter Thorpe. We have been looking at their work and analysing some pieces; saying what we like and dislike.
We have also been using oil pastels. We have experimented using oil pastels and how to effectively create pieces of art. We have practised our blending skills.
Academic Year 2021 - 2022
Term 6
This term started off with a mystery Maya visitor! Professor Jones came in and taught us all about the Maya and showed us what life was like for them. During this visit, we had so much fun! We explored what the Maya wore and what food they ate. This links to our history topic this term. In class, we have looked at the discovery of the Maya Civilisation, The Gods and Religions that they worshipped and Maya writing.
Our book in English this term, is the Last Wild by Piers Torday. We have discovered what life would be like in a dystopian world. The children have thought carefully and considerately in this unit of work and have produced some fantastic pieces of work. We particularly liked describing the main character in this story - Kester - as he can't speak, but can communicate with the remaining animals. We had a class discussion centred around the importance of animals and what the world would be like without them.
In Science, we are exploring the circulatory system. We have found it so interesting looking at the different parts of the heart and the various components needed to ensure our circulatory systems are functioning properly. We have also enjoyed looking at the components in blood. We now understand what blood is made out of and how certain cells within our bodies can stop the blood from moving freely around the body.
We have been most excited about practising for our school play this term! Our play is 'Robin and the Sherwood Hoodies'. We have all really got into our parts and have truly made them come to life! We are practising really hard and cannot wait to show our grownups what we have been doing!
We spent a day working on, and consolidating our DT skills to create some props, backgrounds and costumes for the play. We used a variety of materials to help us with this and have produced some excellent creations!
Year 6 have enjoyed their transition days to their various schools, and have all come back absolutely buzzing about becoming a Year 7!
Term 5
In Term 5, we built up our sewing skills to create the final product of a cushion! We had so much fun during this unit of DT! We learnt a variety of sewing skills, such as running stitch, back stitch, cross stitch and over stitch. We had to think carefully about what stitches we wanted to use on our final product. We explored the use of embellishment and applique to discover what we liked the most.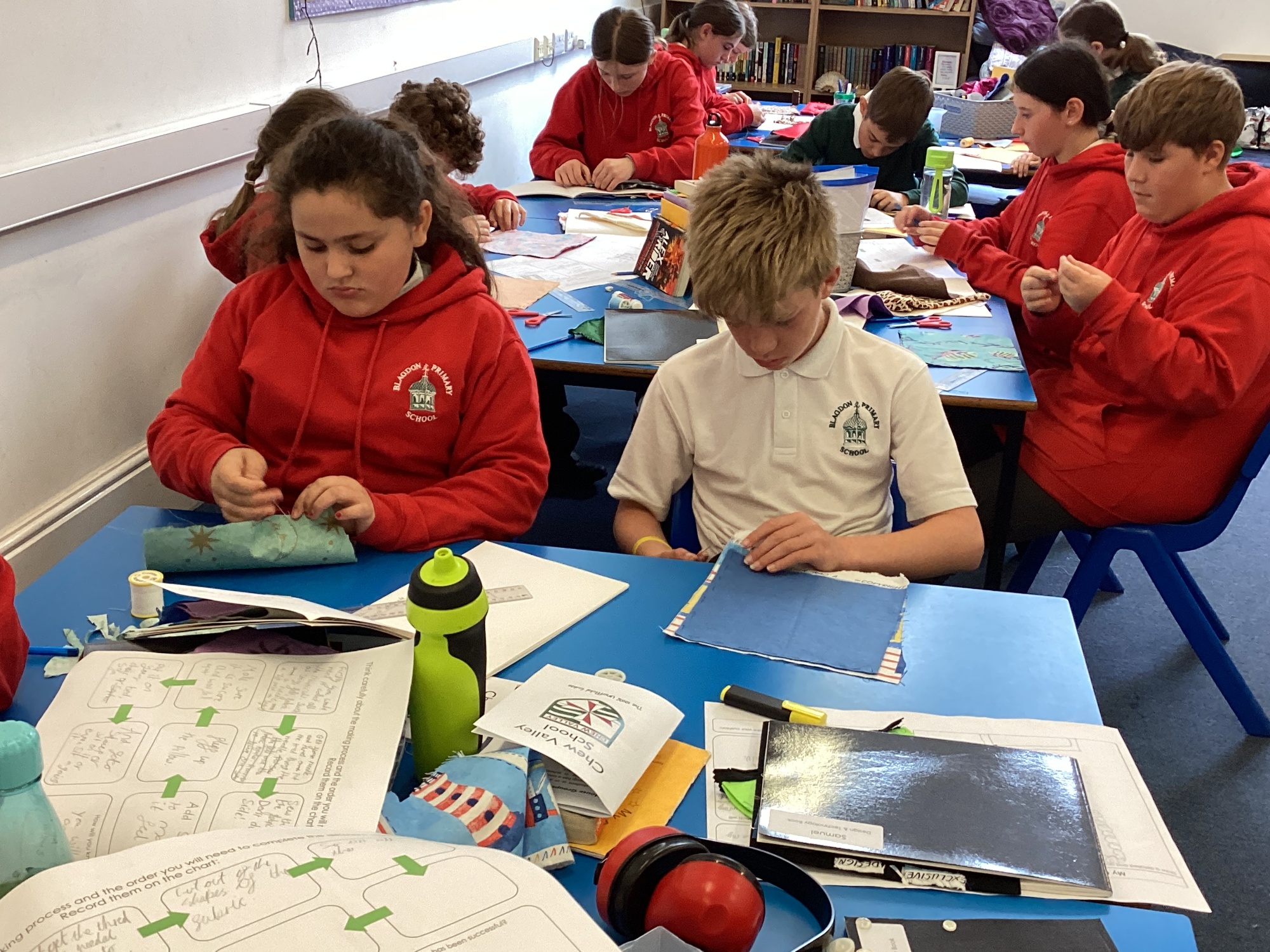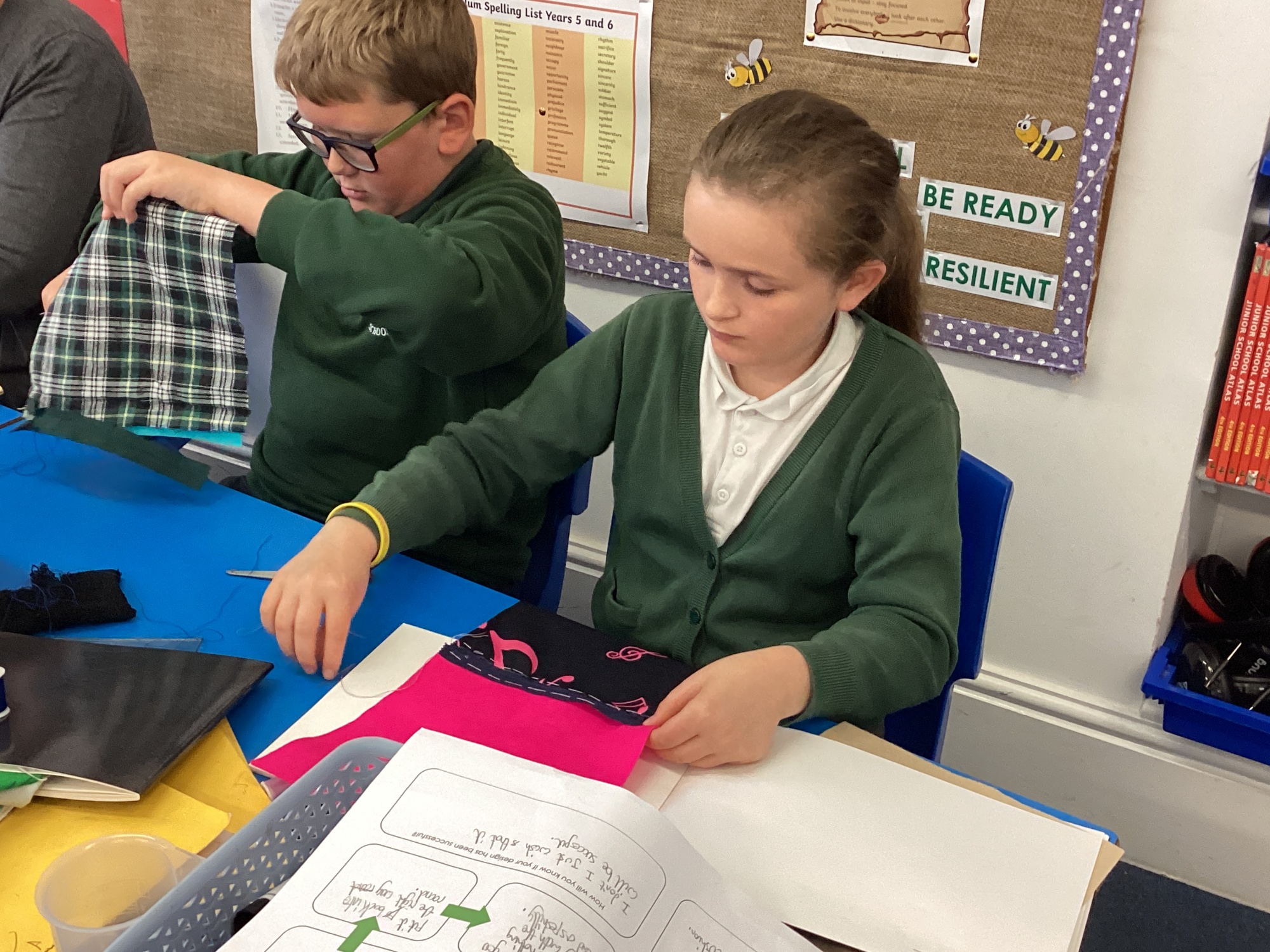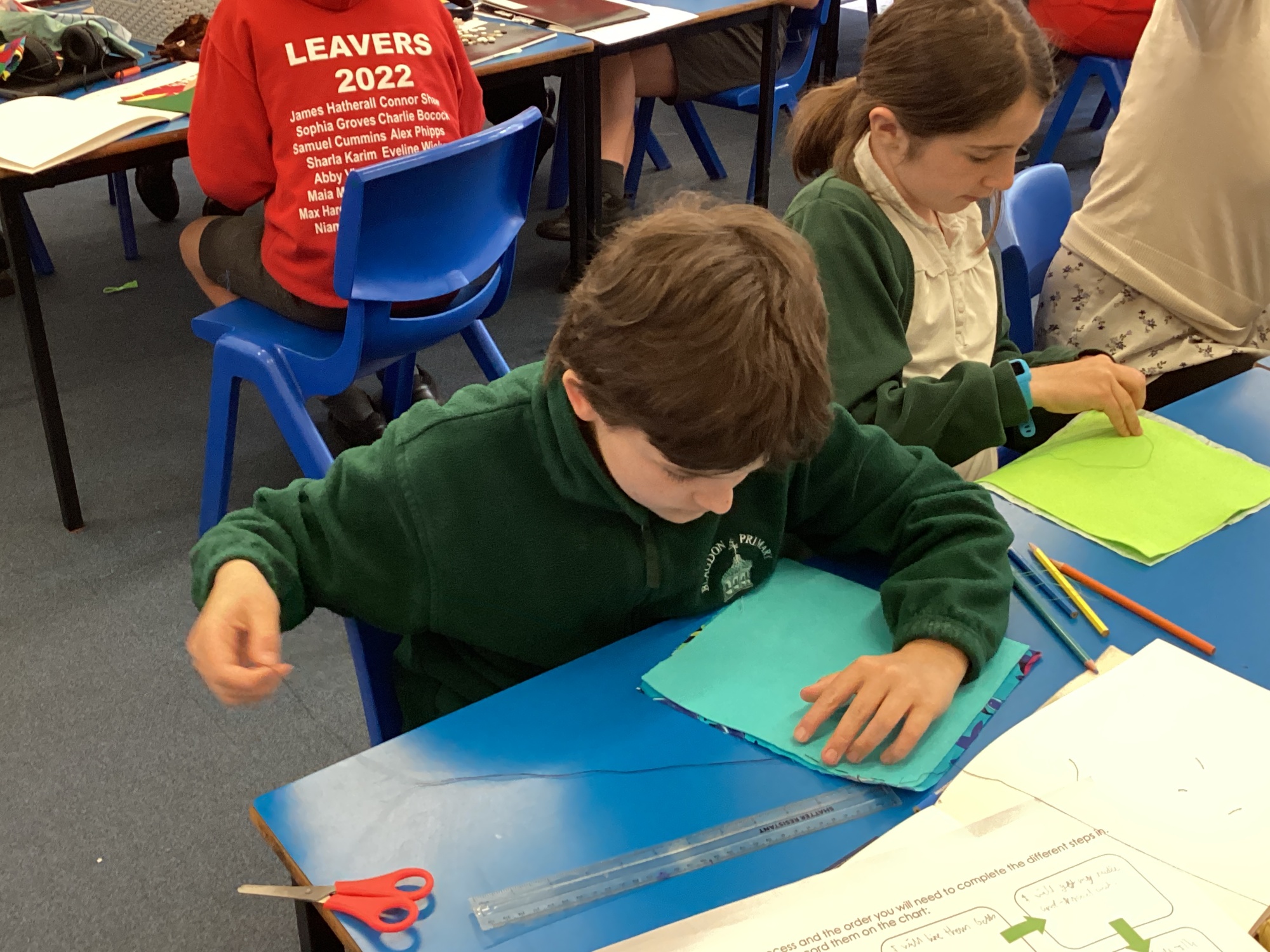 In English this term we have been exploring 'Percy Jackson and the Lightening Thief.' We have really enjoyed this book so far and have worked hard in our learning. So far, we have produced a fantastic piece of writing, based on a predicted chapter. We really enjoyed thinking about what may happen next... especially as we had just found out which God was Percy's father! We have also created a leaflet advertising Camp Half-Blood. We used extracts of text from the story to create our leaflet, we found lots of clues as to what the camp could be like! In addition to this, we created a map, using the text extracts. We had a lot of fun doing this!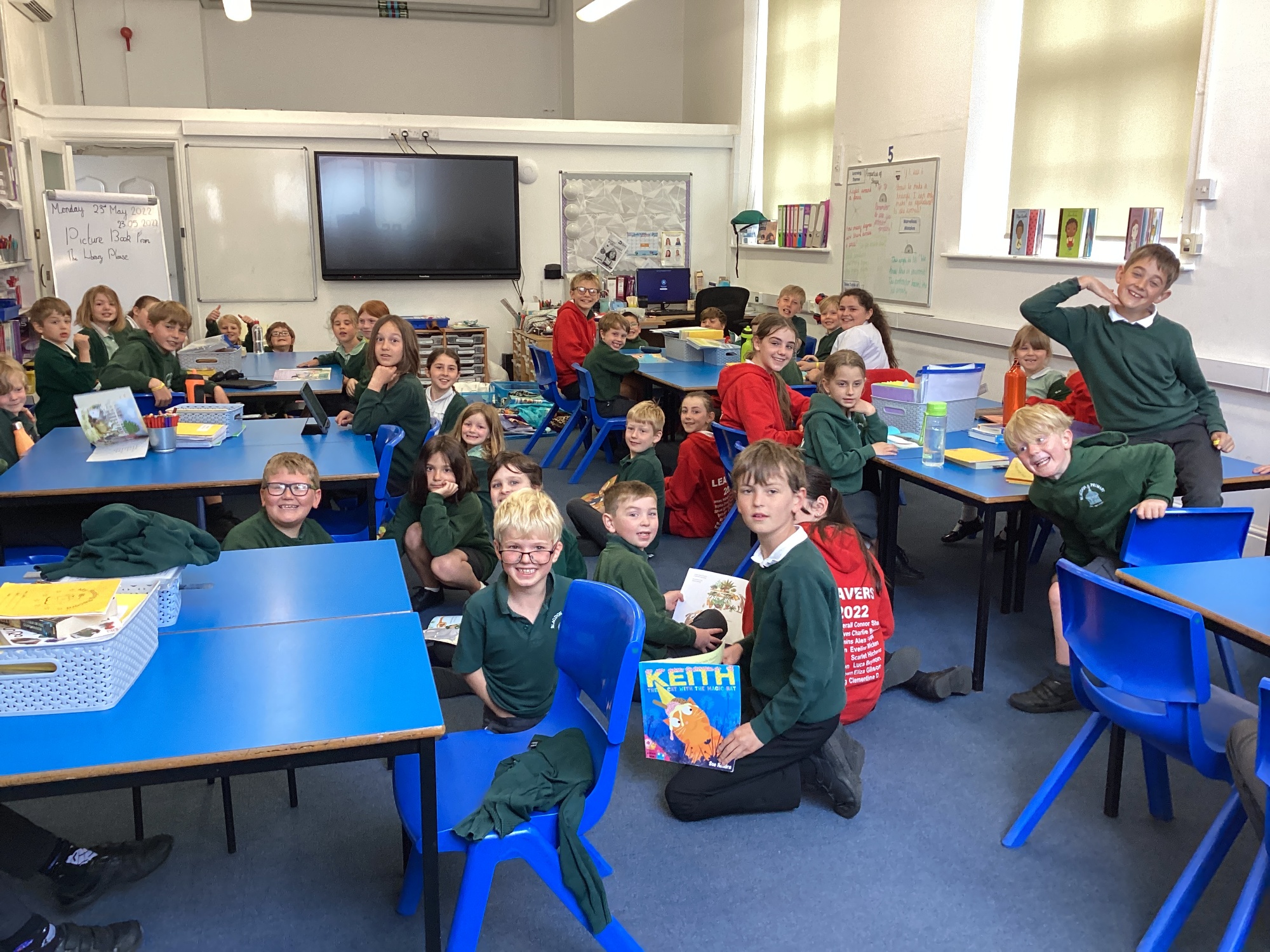 In Maths, we have carried on with properties of shape. We have tried hard to remember the amount of angles in a triangle, square and rectangle in Year 5 and in Year 6, we have had to remember the angles in a quadrilateral!
In Geography, our topic is Energy and Sustainability. We have found this unit insightful and interesting so far. We have learnt about sustainable energy and unsustainable energy. We found it interesting learning about all types of energy sources available to us. In class, we have had lots of discussions about this topic, and we have been having some wonderful class discussions!
In Science, our topic is Living Things and Their Habitats. We have been looking at how we can order and characterise animals! We had a go at creating our very own characterisation charts, which went really well!
We have also looked at plant categorisation and we learnt about flowering and non-flowering plants. We created a fact file about these plants and the work we produced was excellent.
In week 3, we explored whether we thought all bacteria was harmful or unharmful. We created leaflets displaying our knowledge in this area, we also researched using the iPads and found out some very interesting things!
Also, this term, Year 6 completed their SATs! I am very proud of how hard they all worked! Now we can look forward to our end of year performance!
Term Four
This term so far has been super! This week we performed at The Playhouse in Weston in 'Dance Their Socks Off.' We were crazy scientists for this show and performed a four-minute dance to a huge audience. This was a great experience for us and despite the nerves, we were amazing!
This term also marks our new topic - Mediaeval and Tudor Monarchs. This week, we have studied the period from 1066 and looked at whom the rightful heir to the throne was. We had a class debate and discussion and surmised that William I was who we felt was the rightful heir.
In English, we began our new book 'Rain Player' by David Wisniewski. We have had such fun learning about the Ancient Maya game 'Pok-A-Tok'. We were unsure however if we would like to play it!
In Maths Year 6 have begun learning Algebra. We found it useful to be able to draw pictures to help us visualise the algebraic equations.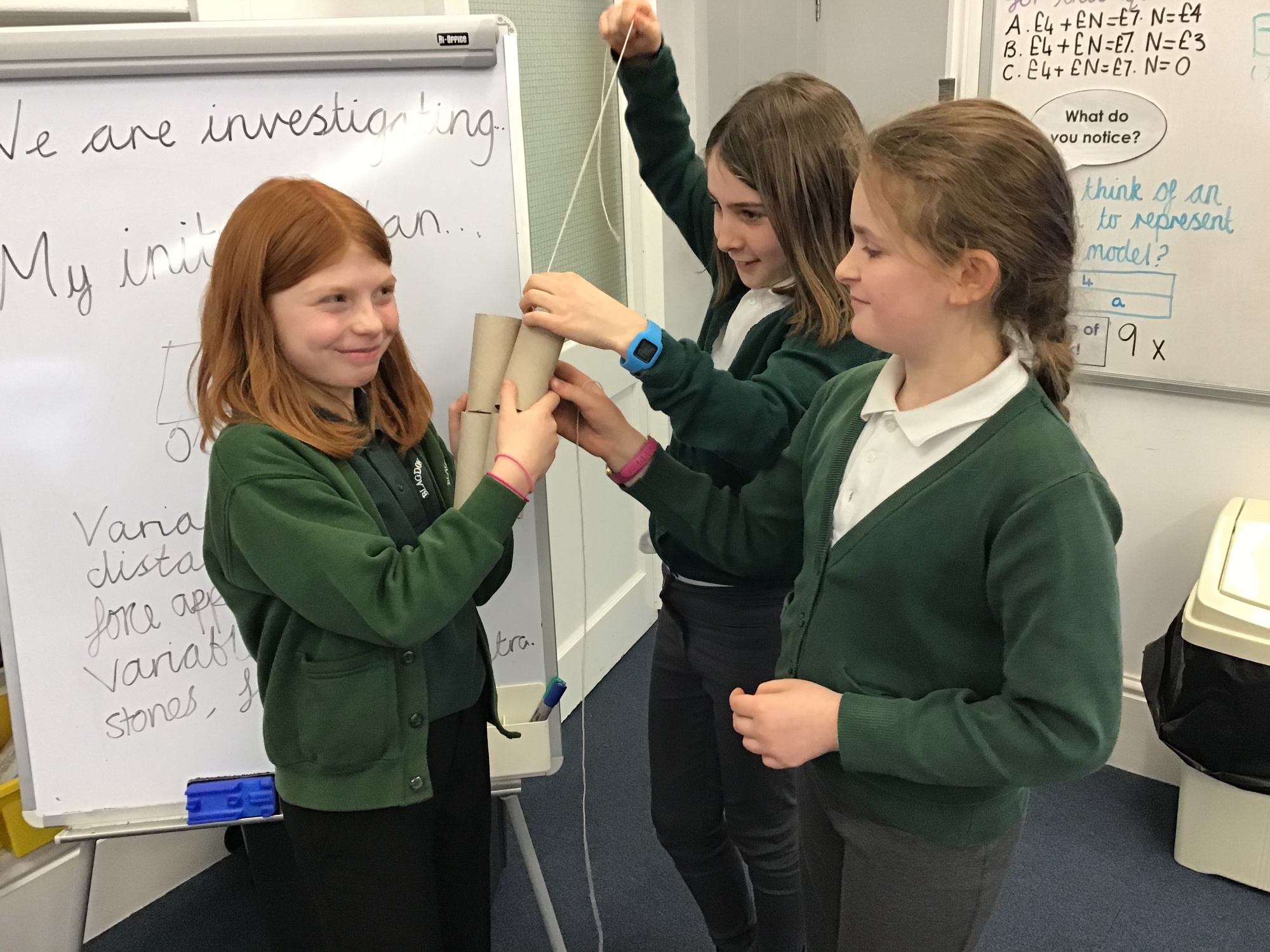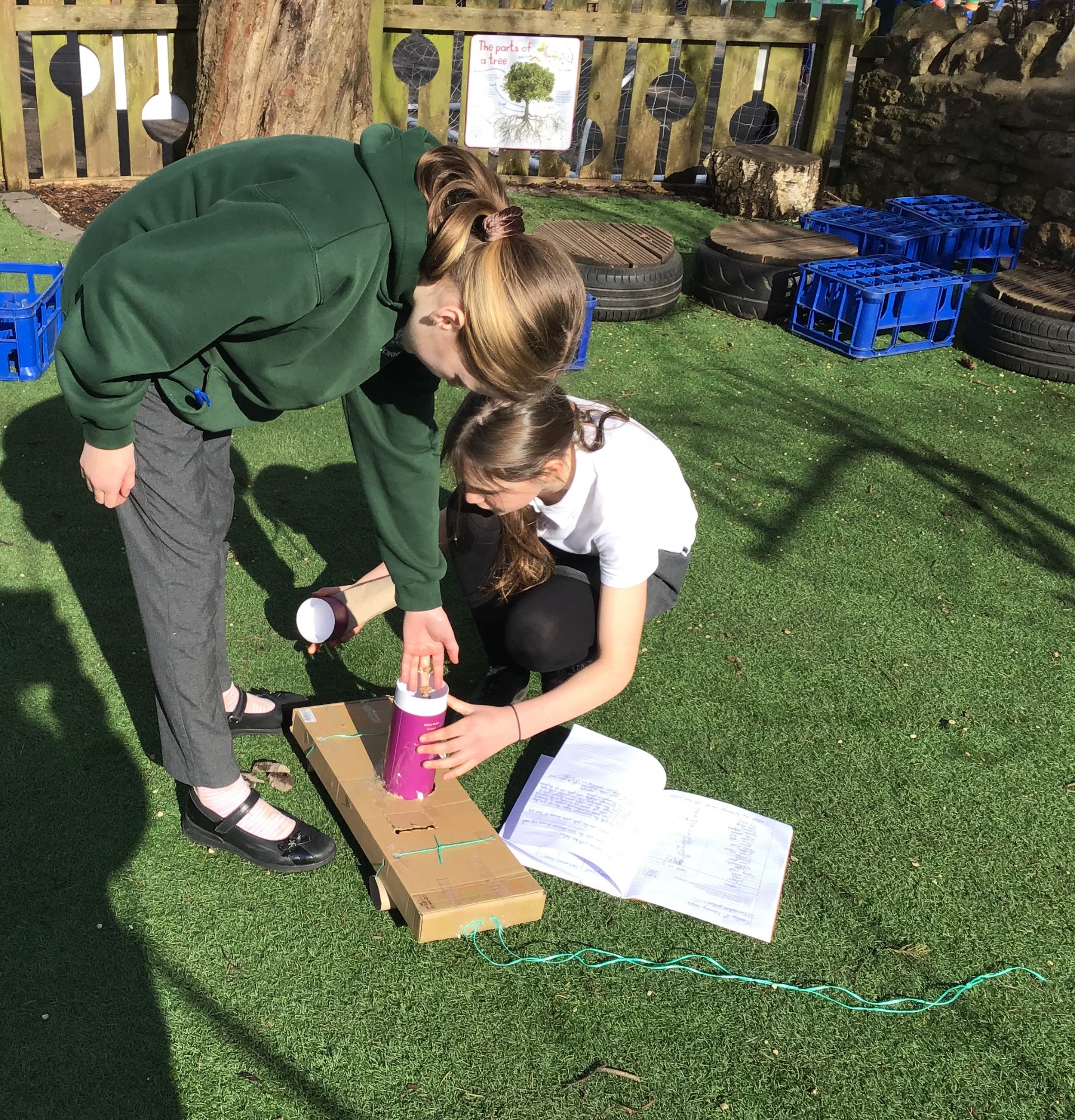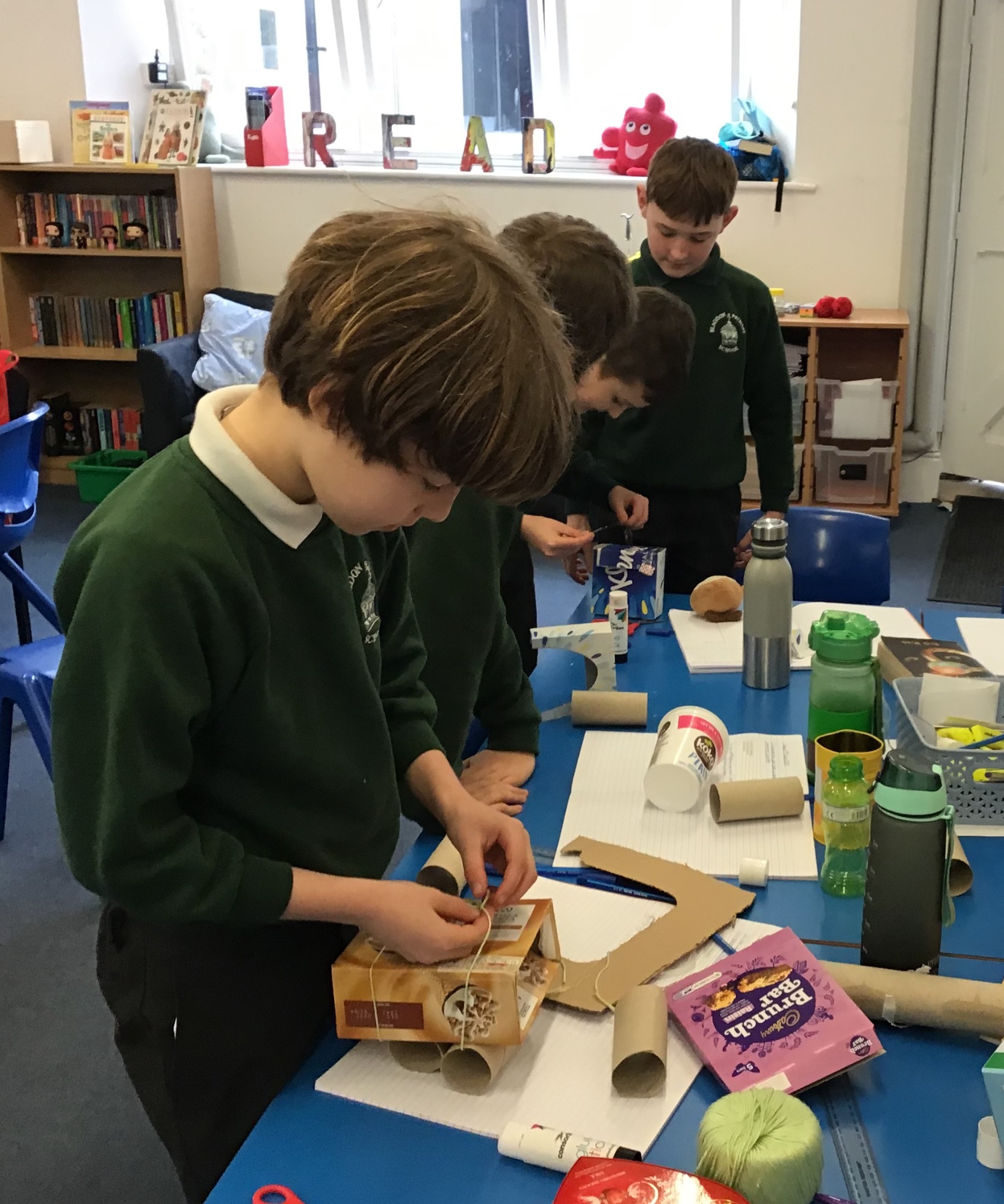 In these pictures you can see the amazing Ancient Egyptian contraptions that we have made! We made these contraptions, linking to our science topic of 'Forces', to show the affect that friction can have.
This week (week 3) we have worked hard in English to research the Ancient Mayan's, linking to our English book 'Rain Player'. We have attempted to research a variety of areas, with the aim of presenting our knowledge to our peers. We are also going to attempt to write an essay - we can't wait to show you our results.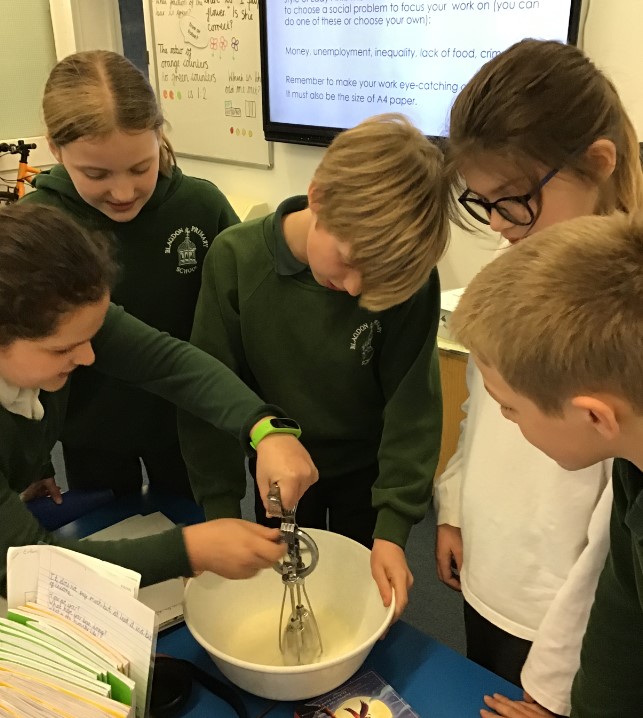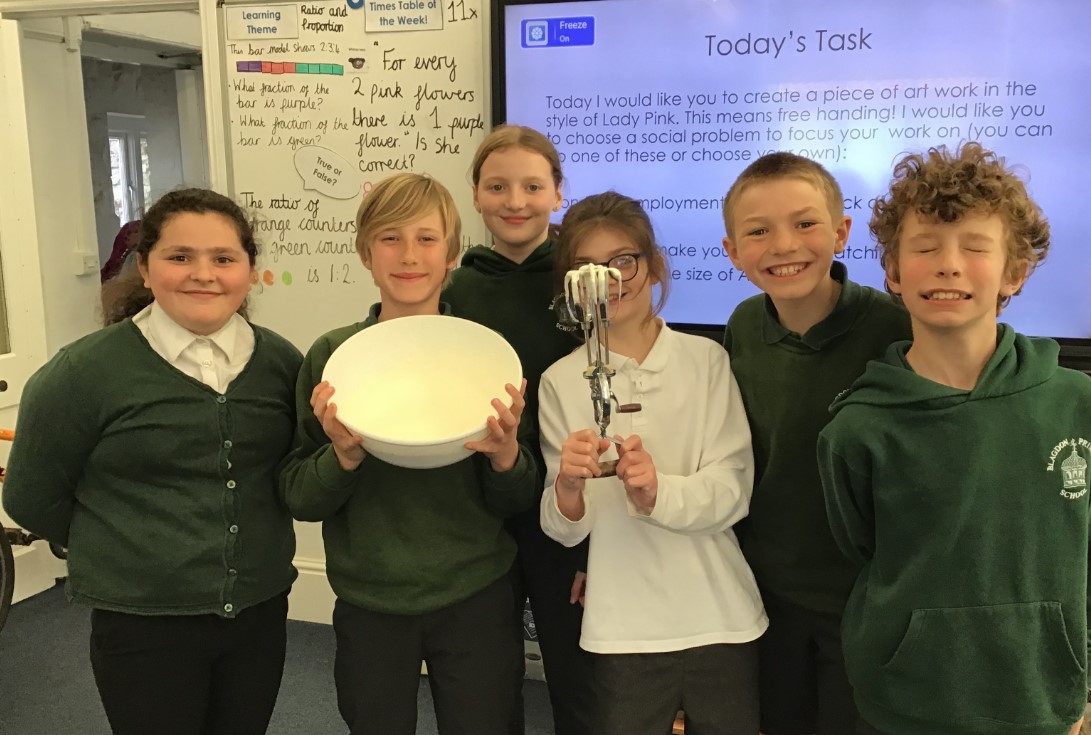 We have had lots of fun this term looking at our science topic, Forces. During this experiment we used an old-fashioned whisk with gears to see how long it would take us to whip cream. We were surprised when it took us over 300 whisks!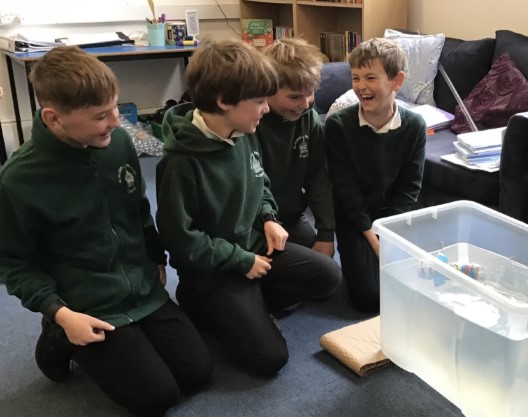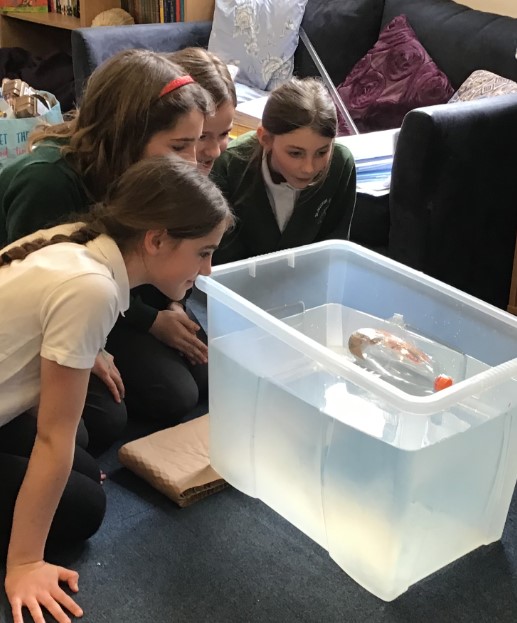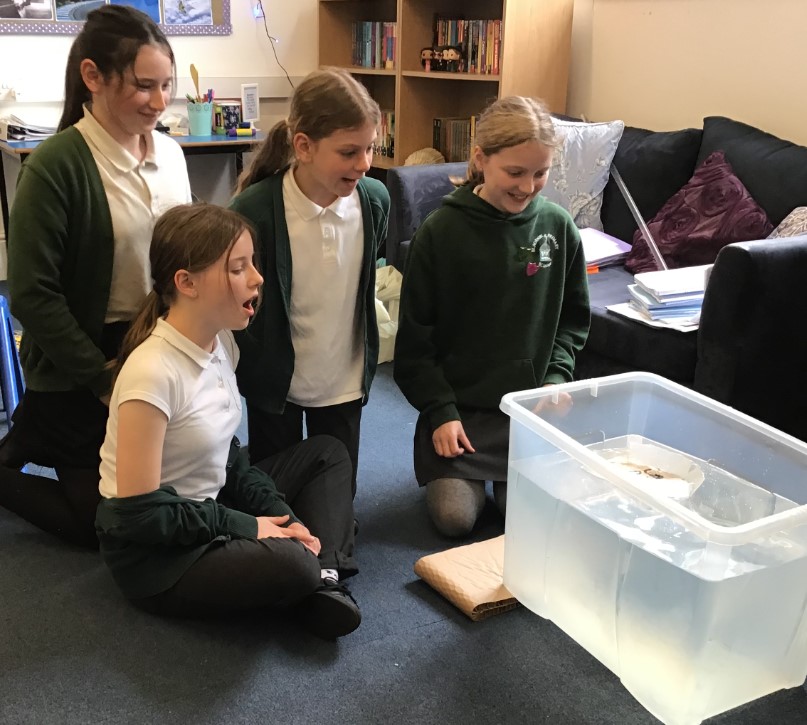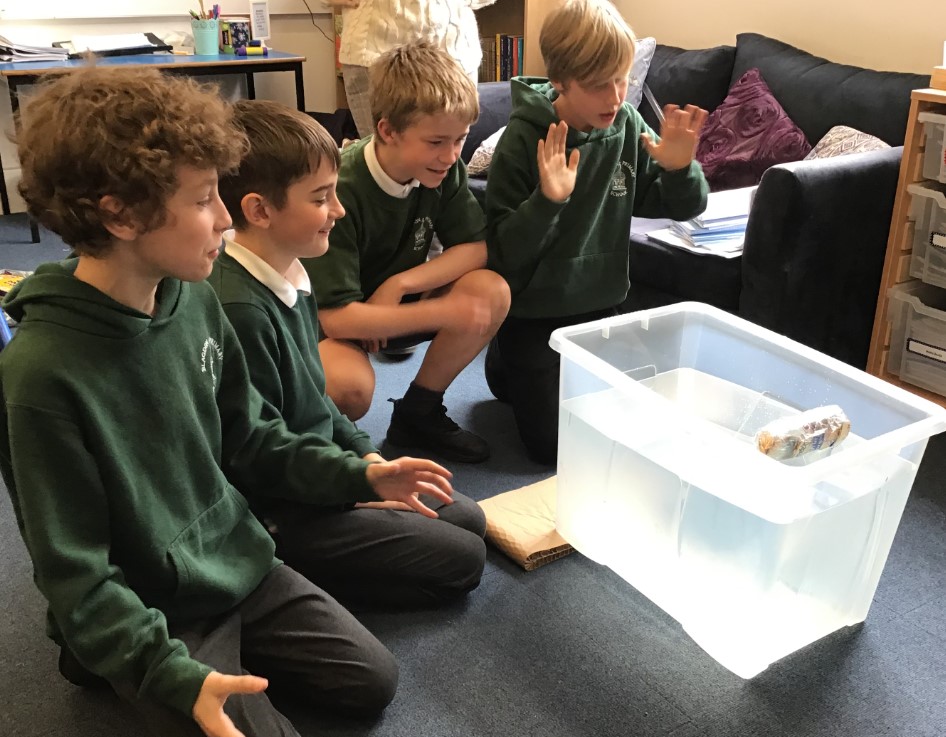 During Science, we have been exploring water resistance as part of our learning around Forces. We made boats using junk modelling, and we timed how long it would take us to move from one side of the container to the other. We had to think carefully about what materials we used as we didn't want the boats to sink! The fastest time was 9 seconds.
Term Three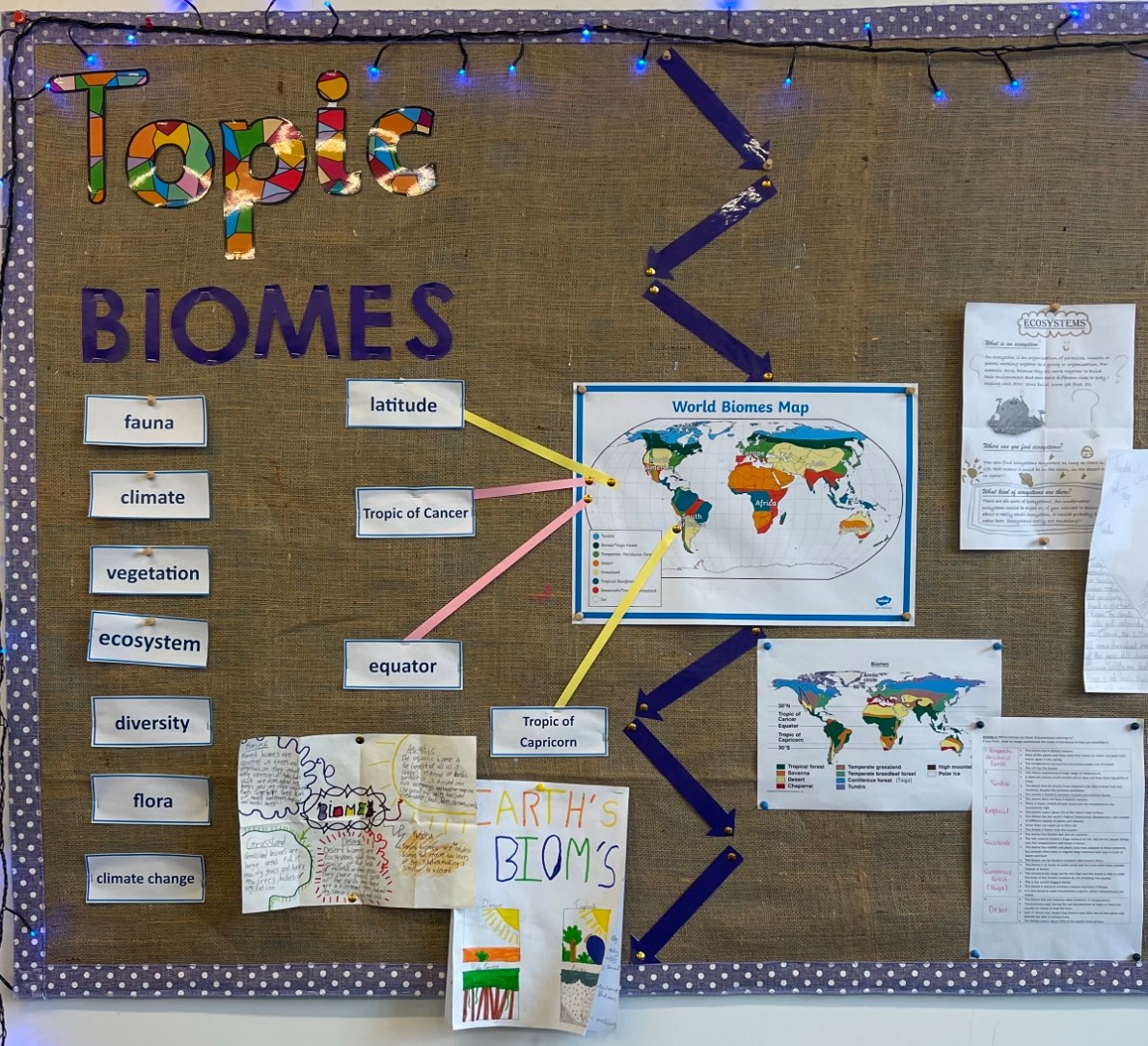 We have been doing lots of fantastic learning across all curriculum areas. We are studying Biomes in Geography and have learnt about the various biomes and the features of them.
In English this term, we have studied 'The Princess's Blankets' by Carol-Ann Duffy. We thought this was a fabulous unit and created some superb writing outcomes; we created our own fairytale!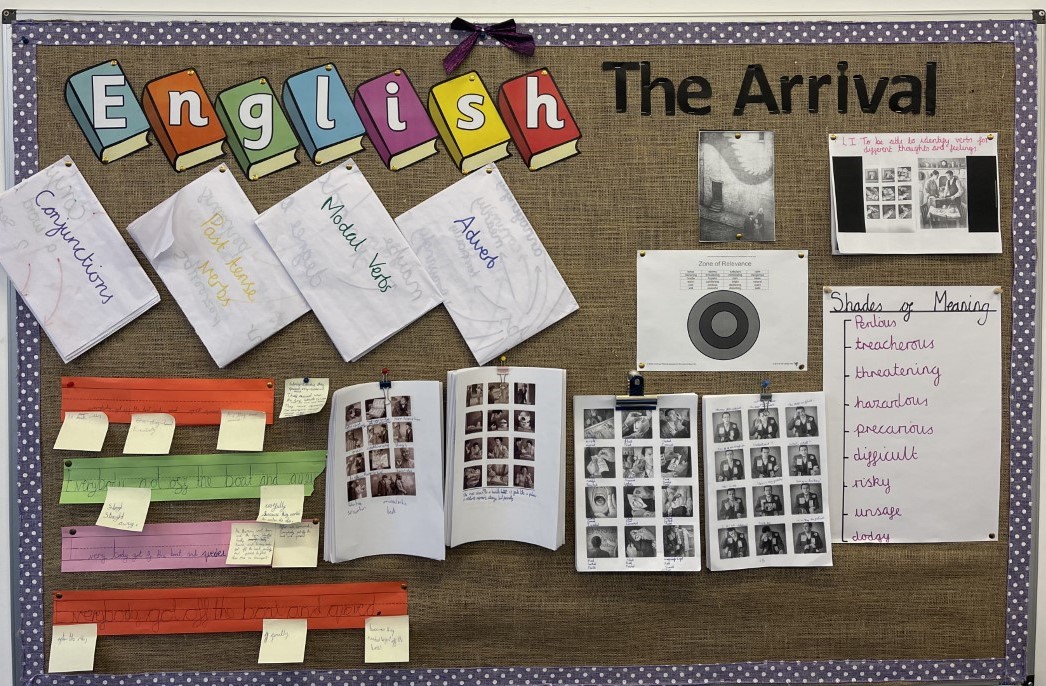 We are currently studying 'The Arrival' by Shaun Tan. We are really enjoying this insightful book and have had some wonderful class discussions about it.
We are encouraged to use a wide variety of vocabulary in our English work. In our classroom we have a word wall on display, where we add any words we have never heard before or are unsure of their definitions. This has been a really useful tool to aid our learning.
In Science, we are exploring Forces. So far, we have looked at gravity and Isaac Newton. We found this particularly interesting and learnt all about the Theory of Gravity! We undertook our own experiment using Newton Meters to collect data on the weight of items in the classroom. Importantly, we have also looked at the difference of weight and mass.
In Math's we have been looking at Decimals, Percentages and Fractions. We have looked at the relationship between these three mathematical areas and have secured our understanding.
In Art, we are exploring 'Cityscapes'. We have had a lot of fun creating beautiful pieces of art in this unit. So far, we have explored the work of Charles Fazzino. We discussed his pieces of work and really liked how bold and bright they are. Based on Fazzino, we have created some super pieces of 3D pop art. In lesson 2, we looked at Leonid Afremov's abstract art work as a basis for our final product. We explored the use of palette knives and how they can be used.
Term Two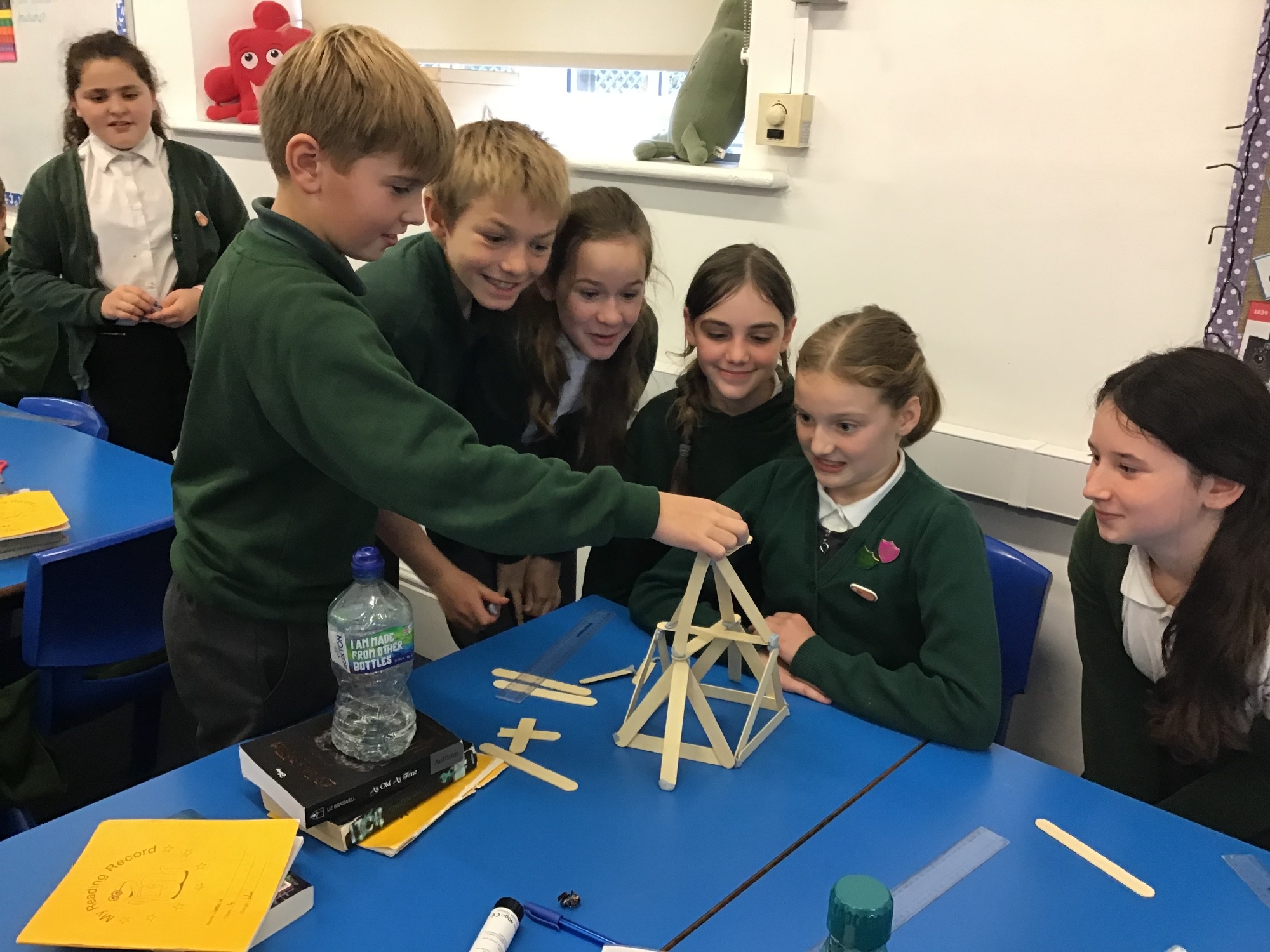 In Term 2, Class 4 spent 6 weeks learning about lighthouses, their functions and how they worked! We had so much fun exploring how to build lighthouses. We firstly started with creating basic structures and worked our way up to creating magnificent pieces of art!
In November, we began our learning journey of The Industrial Revolution. We explored the key features of Victorian society and what it was like to be a Victorian during this time. In particular, we looked at living and working conditions. We had discussions and decided, whilst the Industrial Revolution helped our lives today, we would not have liked to have lived then! We were shocked to find out about Victorian schools and made leaflets advertising our own Victorian schools! We found it fun to be in charge of our own curriculum!
In December, we explored 'Grimms Tales' in English. We particularly enjoyed this unit of dark fairy tales. Our unit ended with us creating some deliciously dark tales!
Term One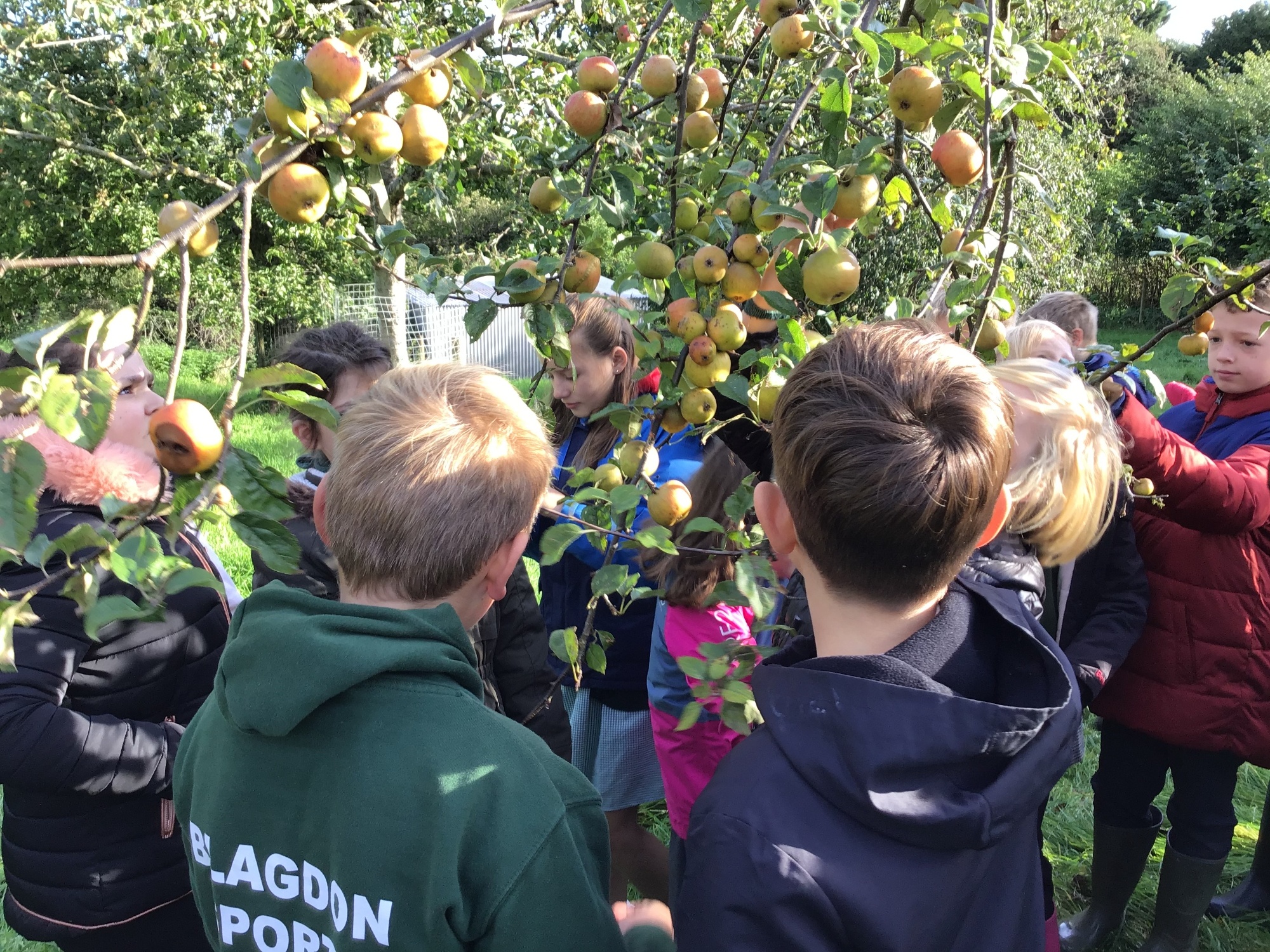 In October 2021, Class 4 and Class 1 went together to go apple picking in our local orchard. Class 4 enjoyed the responsibility of looking after our youngest pupils.